Braised Beans with Cavolo Nero by Emma Cantlay
My best friend and I have this saying that's often banded about in our house. It's usually on the weekends, when the days don't seem to have much structure and you realise at 4PM that you haven't yet eaten lunch. You're suddenly so hungry and the only way to describe it is that it feels like your stomach is floating. "I need something to sink the stomach Jess". There's something oddly comforting about the thought of your stomach sinking, being weighed down by the goodness you're feeding it. This is a bowl of stomach sinking goodness for sure.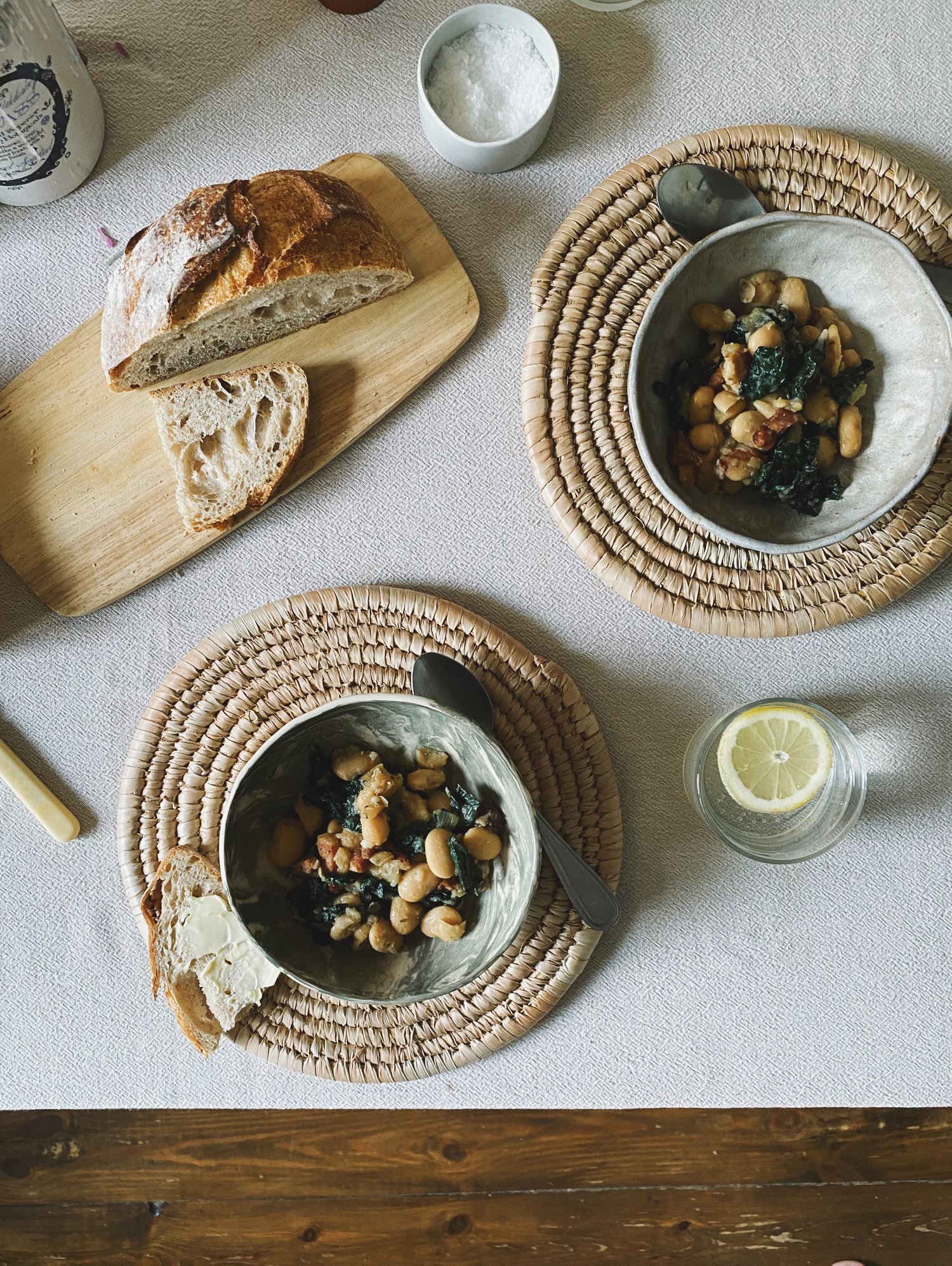 Serves 2 as a hearty dinner
Ingredients:
100g pancetta 
1 onion, finely chopped
I clove of garlic
5 sage leaves
2x 400g cans of butter beans
550ml good stock
120g cavolo nero
This dish is cooked in one pan, use one that's relatively large and has a lid! 
Method:
Tip the pancetta into the cold pan, turning on the heat but keeping it low - this will allow as much of the fat to render as possible without burning the meat. Once it's started to crisp, remove from the pan using a slotted spoon - place on a piece of kitchen paper and set aside until later.

Add the onion into the same pan and cook using the pancetta fat, only adding a little more oil if necessary. Cover with the lid and soften over a low heat for 10-12 minutes.

Chop the garlic finely and shred the sage leaves, add them to the onions once softened and cook for a further 2 minutes.

Drain and rinse the beans before adding them into the pan, along with the stock.

Bring to a simmer, then leave on a low heat for 30 minutes until the beans are tender and almost all of the stock has gone.

Using a potato masher or fork, lightly crush some of the beans, leaving around half of them intact. Season with a good grind of pepper and a little salt - remember the pancetta will add a good bit of saltiness.

Strip the cavolo nero of any tough stalks and rip into pieces. Add these to the pan and cover with the lid. They should only take around 4 minutes to cook and wilt.

Mix through your pancetta from earlier and serve immediately with a good chunk of bread.